Stella EDB to PST Converter Software
Stella EDB to PST Converter tool to recover and export Exchange EDB file to PST Outlook. It is one of the best EDB to PST Converter software recommended by IT Professionals to  export EDB file to PST. This EDB to PST Converter Software from Stella has the ability to repair a corrupt EDB file and Export the Data to PST,EML,MSG,HTML,Office 365 and many other file formats.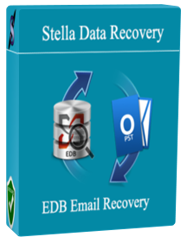 Free Download


Buy Now

 4.7/5
Average Rating(4.7/5)
Features of Stella EDB to PST Converter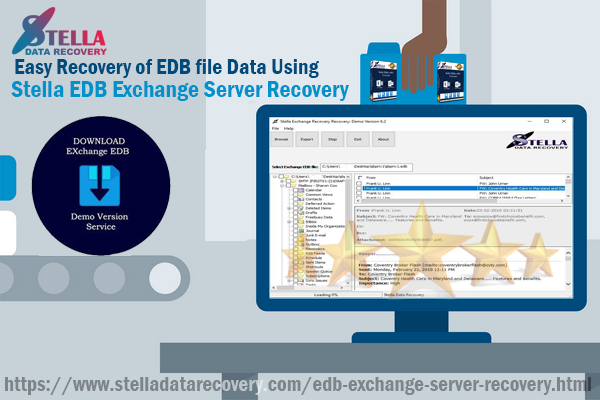 Convert large size exchange EDB file to PST Outlook
Recover Exchange EDB data from private folder(priv.edb) and public folder(pub1.edb).
Preview EDB Mailbox data such as emails, contacts, calendars, drafts, notes ,attachments etc.
Recovery of Deleted emails and folders.
Conversion of selective data with the help of filters.
Loseless file conversion as the file structure remain intact during conversion of EDB file.
Conversion to multiple file formats such as PST, EML, MSG, HTML, TXT, Office 365 etc.
Specifications For EDB to PST Converter Software
minimum requirements to run EDB file to PST converter software
Software Download

Demo Version


Full Version

Software Specification
Size: 8.70 MB
Version: 6.2
RAM: 64 MB
Hard Disk: 15 MB
Processor: Pentium II
Language Supported
English
Supported Editions
Microsoft Windows ‐ Win 7 / 8 / 8.1 / 10 (32-Bit & 64-Bit)
Windows Server 2003 / 2008 / 2012, 2016
MS Outlook ‐ 2003, 2007, 2010, 2013, 2016, 2019 (32-Bit & 64-Bit)
Exchange Server ‐ 2003, 2007, 2010, 2013, 2016 & 2019 (32 & 64-bit)
Pre-Requisites
               Microsoft .NET framework 4.5 or above
 If you are using Window 10/ 8.1/ 8/7, then please launch the tool as "Run  as  Administrator".
Delivery
The delivery process is automated you will receive and email containing the activation key within few minutes of successful purchase.
Stella EDB to PST Converter Software Comparison
Overview of EDB to PST Recovery Software features- Demo and Licensed Version
Features
Demo Version
Full Version
Preview EDB Emails with Attachment
Windows 10 & All Other Previous Windows Version Supported
Split Large Size EDB File
Conversion to multiple file formats such as PST, EML, HTML, TXT, Office 365 etc.
Support all versions of Outlook
Support all versions of Exchange Server
Export single or multiple file items
Export Unlimited  Mailboxes from EDB  to PST
30 items only
Cost
Free
$129
Key Features of Stella Best EDB to PST Converter
to export microsoft exchange EDB to Outlook PST file
Convert Exchange EDB to PST
The Exchange EDB to PST converter recovers Exchange Server EDB file and save it to PST Outlook file format. You can create PST file for a EDB mailbox with all the data items in it. The EDB to Outlook software can easily convert any size of EDB into PST file.
preview of Exchange data
With preview option EDB file recovery estimated time can be checked. It shows preview of recovered EDB files Mailboxes, Folders along with Items attributes, such as To, From, Date, Time, Cc, Bcc and Subject. Thus recovered EDB can be seen in preview after the recovery.
Splitting of Multiple PST
This option allows to split EDB mailbox to multiple PST files while converting from EDB to PST. There are no size restriction large size EDB file can also be split to PST files.
Recover Deleted Mailbox Items
The EDB to PST Converter toolbox easily can easily perform a deep scan and can easily recover deleted items from the mailbox.
Filter Based EDB Conversion
This best EDB to PST Converter software allows users to filter their data on the base of time and date. This offer users to filter their Mails, Contacts, Calendars, Tasks, Journals, Notes etc. One can convert EDB file items to PST using these filters effortlessly and efficiently on selected bases.
Convert EDB to Cloud Office 365
Stella exchange EDB Recovery Software helps to migrate EDB mailboxes into Cloud Office 365 by keeping the entire emails and associated attachments preserved & protected without any alteration.
Maintains Folder Hierarchy
Stella Exchange EDB Recovery tool helps users to keep the folder hierarchy properly managed and maintained so that EDB file conversion can be done properly without disturbing the order of emails and data within it.
Both Pub & Priv EDB Supported
Stella EDB to PST Conversion tool has no restriction for a specific folder.It supports both private(priv1.edb) folder and public(pub1.edb) folder.So data from both folder can be recovered
multiple file format conversion
This EDB to PST utility allows user to convert EDB file to the file format of their choice.User can convert EDB file to the following file formats
PST, EML, HTML,TXT, Office 365 and many more.
Version Compatiblity
This edb to pst converter tool is compatible with all version of windows os,MS Outlook as well as MS Exchange Server. So whatever version of windows,Outlook or exchange they are using it can run on all those versions
Customer Views on Stella EDB to PST Converter
Stella Exchange EDB to PST Converter software has simple and easy to use GUI. Didn't face any difficulty in using the software and easily recovered my EDB file data.


Robert Reynolds
One of the best EDB to PST converter for converting EDB file to PST outlook. Able to recover deleted data from my corrupted EDB file.


Ryan Hemsworth
Decided to test their product before any purchase.So downloaded the demo version to convert EDB to PST and to my surprise what they claim is what they deliver.So purchased the premium version and i am fully satisfied with the performance. A value for money software.


Michael Routh
Choose the perfect plan
Choose the plan for EDB to PST Converter Software according to your requirements
Personal License
$99
Single person only
24X7 Support
Unlimited conversion
1 Year Support
Business License
$249
Unlimited Users
24X7 Support
Unlimited Conversion
Lifetime Support
Enterprise License
$399
Unlimited Users
24X7 Support
Unlimited conversion
Lifetime Support
Frequently asked questions
Most frequent questions and answers
How to Convert EDB to PST using Stella EDB to PST Converter ?
Follow the following Steps for easy EDB to PST Conversion
Run Stella Exchange EDB recovery Software
Select the EDB file using browse option
Click next to start conversion process
now select the mailbox to convert
Click export button
Select PST option to export Exchange mailboxes into PST format.
Browse the destination and Click Ok
Can i recover data from both private and public folder
yes with this EDB to PST Converter tool you can recover data from both public and private folder as it can recover data from pub1.edb and priv1.edb
Are deleted maiboxes recoverable with this EDB to PST Converter
Yes you can easily recover the deleted mailboxes with Stella exchange EDB recovery software as this software works on raw level and performs deeper scan.
Can I convert Single mailbox to PST Outlook
Definitely you can just select the mailbox you want to convert to PST outlook.
Can I convert EDB file to other file formats
Yes you can convert your EDB file to PST,EML,HTML and office 365 file formats as well.
What versions of MS Exchange Server does this software Support ?
Stella exchange server tool supports MS exchange version 2000, 2003, 2007, 2010, 2013, 2016 & 2019
Is my data safe while using this recover EDB to PST software ?
yes all your data is 100% safe and secure while using this .EDB to .PST conversion tool while conversion of EDB to PST.
Is there any limitation for number of mailboxes Conversion.
with the demo version you can convert upto to 30 items from the mailbox but with the full version you can convert unlimited mailbox to PST.
Does this Software guarantee the conversion of EDB to PST ?
Yes this software convert any EDB file no matter how corrupted it is.If you want to test the software before purchase you can try the demo version to preview Exchange mailbox and Convert EDB to PST Outlook upto 25 items.
How much time does this software takes to convert EDB file ?
The Conversion of EDB file depends upon the Size of the EDB files and mailbox to be migrated.The software is designed in such a way that it perform a deep scan first and then extract every bit of information from the EDB file while maintaining the folder hierarchy.
What if i face any technical issue in EDB file Conversion
If you face any technical or non-technical issue during the EDB file conversion you can contact our support team. Our support team is 24*7 online to provide you support for whatever issue you may be facing. In case we are unable to connect with you due to some reasons you can simply drop us  a mail.We will revert back to you as soon as possible. 
Is there any money back guarantee ?
yes we have 30 days money back guarantee in case you are not satisfied with our software. We will refund all you money within 7 working days without any extra charge.
How much time will it take to get my license key ?
you will get your copy of activation key via mail within few minutes of succesful purchase.
Will there be any issue if the size of EDB file is large
No there will be no issue with large size EDB file. The software will run smoothly without any problem as it can convert any large size EDB file to PST Outlook
Can I split my large size EDB file ?
yes with this excahnge EDB converter software you can easily split any large size EDB file to smaller PST files.
Can I perform a filter based conversion using this EDB to PST Converter ?
Absolutely you can apply the date and time filter and export EDB file data for the selective range of date and time.
Why should i prefer this software over others when they are available at cheaper price ?
you should prefer Stella exchange converter tool over other because it performs scan on raw level, means it can easily recover deleted data from a corrupted file as well. Most the EDB to PST Converter Software available in the market are automation based.Very few are there which does recovery on raw level and our exchange EDB recovery tool is one of them.